Your Partner for effective Digital Transformation and Sino-German Businesses
Germinio Senior Advisors was founded to help companies sustainably grow their business in a globalized world. This includes mastering the challenges of the digital age, with a focus on enhancing effectiveness, leadership, and workforce transformation.
Germinio is your trustworthy partner for effective digital transformation and to establish and operate valuable sino-german business partnerships for co-innovation, production, and international market access.
At Germinio, we strive to make your Digital Transformation and your sino-german business reality. Matthias A. Schmitt and the entire Germinio team and network are happy to welcome you anytime.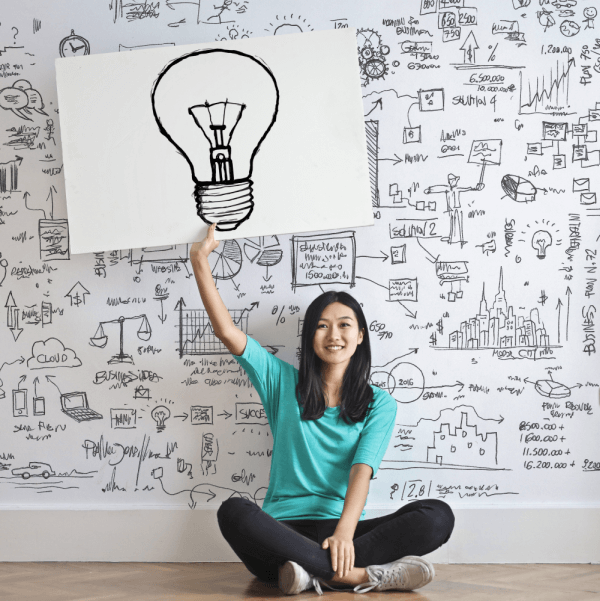 Our purpose is to help companies sustainably grow a successful business in the globalized, digital era!
The purpose of Germinio is inspired by the principles of NETWORK THINKING.
We believe that to help our clients moving forward on the path towards the digital age, we need to approach their challenges in a holistic and systemic way.
This means thinking both about the strategy and implementation, providing both knowledge and methods, being able to look at processes from a bird view and, if needed, dig into the details of technological implementation. Rather than seeing topics such as disruptive change, digitization, design thinking in discrete ways, separated from each other, we combine them to help our clients in the best way possible. If specialization is needed, we involve competent PARTNERS we vouch for within our strong global network.
Hence, Germinio becomes your one-stop-shop. With trustworthiness, competence and agility we make your life easy and your business growing!
Six domains of Digital Transformation
Thanks to profound experience, including a proven track record in digitalization, business model and process innovations, the team of Germinio offers a holistic approach to advising on digitalization including all its crucial aspects. Therefore, we always consider all six domains of digital transformation for a more effective way of work.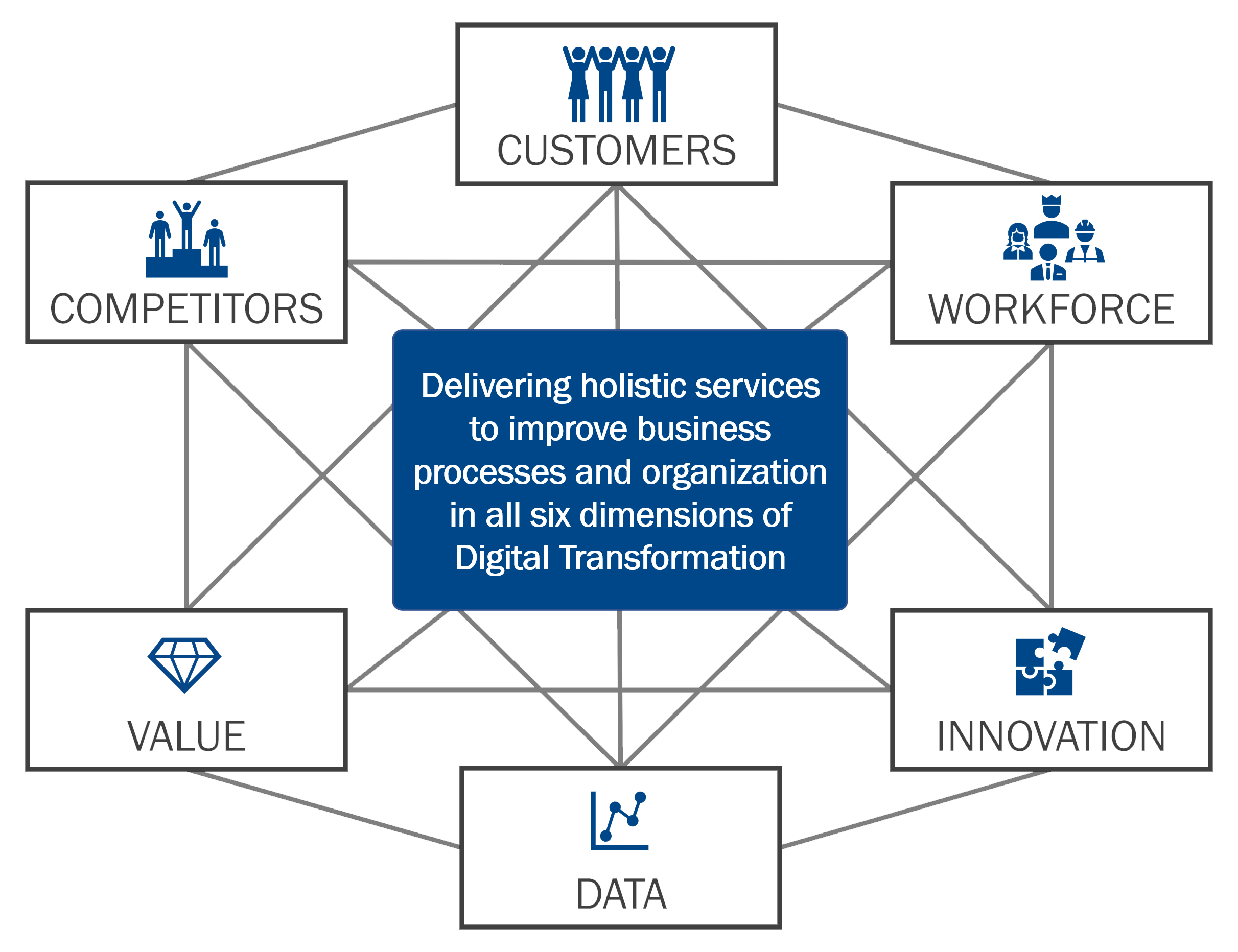 Our Focus for your Digital Transformation
Effectiveness and Efficiency are the core of our expertise!
In the digital world it's all about people doing business with people!
Hence, we need to start with the people and developing their mindsets and skills in an open and networked way. Basically this means generating a new company culture which is open, international, networking minded and carries innovation in its DNA. That is why we at Germinio focus on the digital transformation of your workforce – for a more effective and efficient way of work.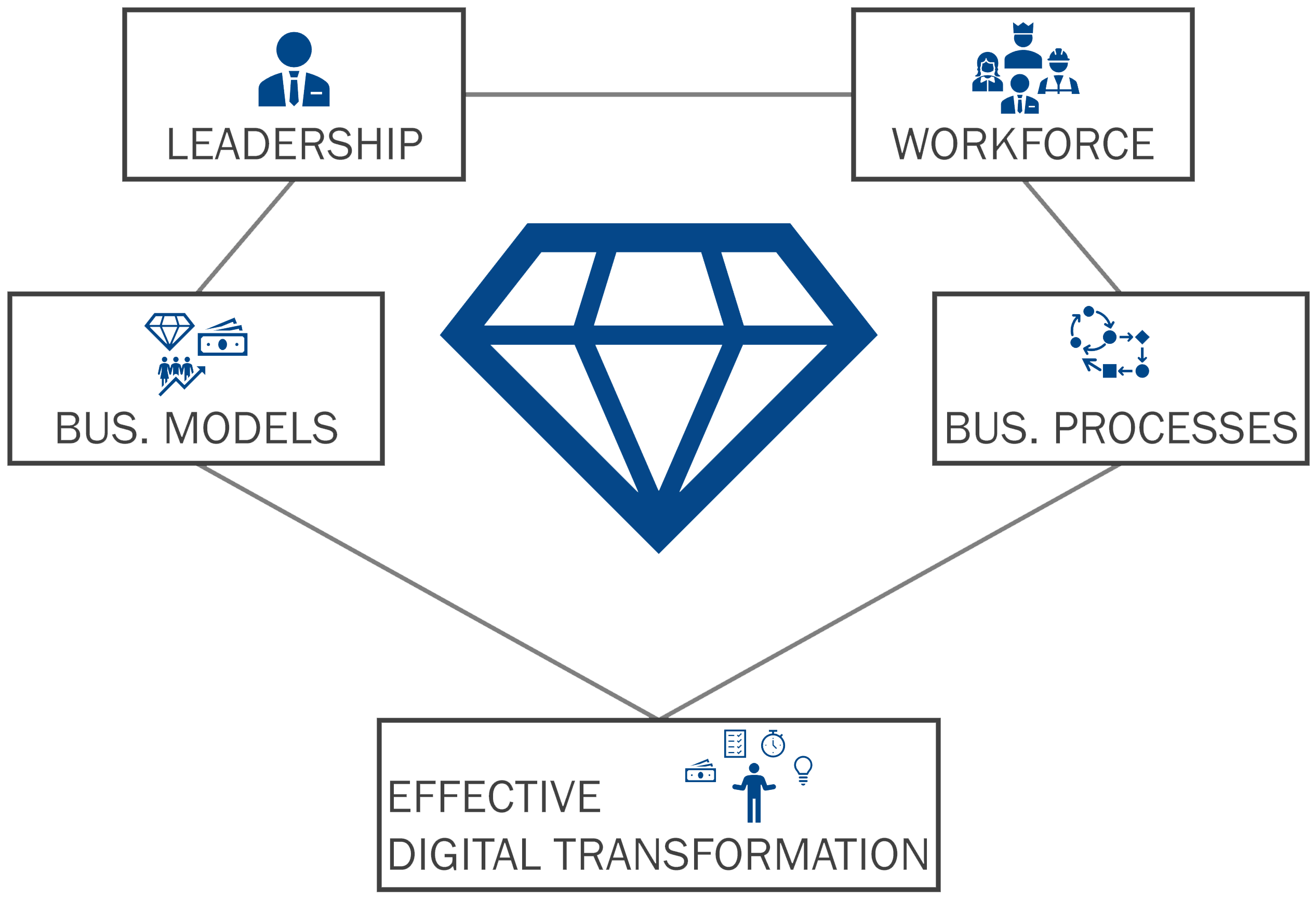 In a company culture with strong, networked people power you can easily and constantly innovate your services and product portfolio as well as your business models and respective business processes.
Germinio Senior Advisors are ready to accompany your people along journey, focusing on effectiveness and efficiency of your measures to…
go for Disruption!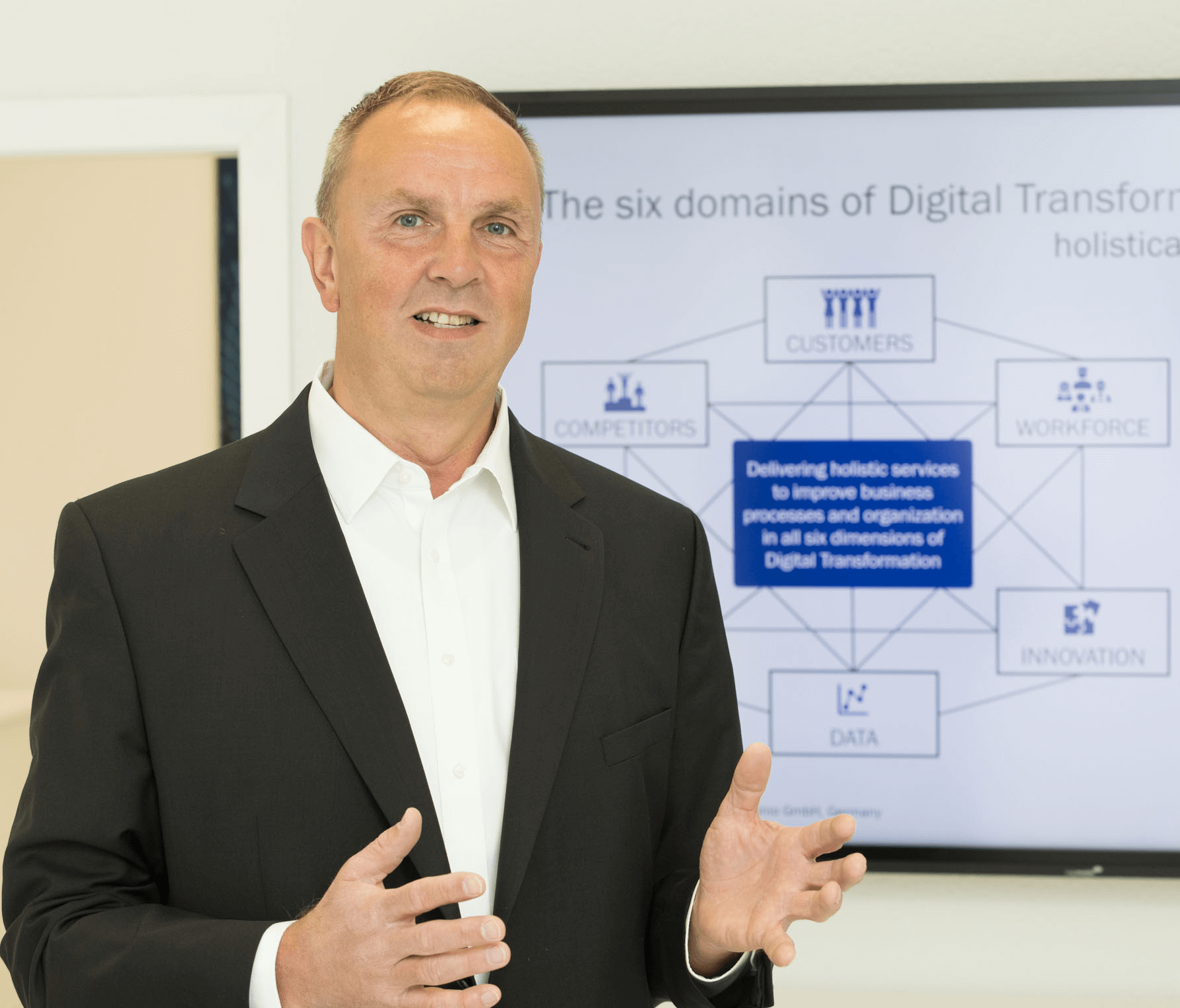 In 2019 Matthias A. Schmitt has founded Germinio GmbH in order to attend companies and authorities on a global scale during their digital transformation with holistic, integral Senior Advisory Services. The focus lies on helping customers to sustainably grow in the digital era with highest possible effectiveness.
During the past 19 years, Matthias held several international leadership positions at SAP SE, including Global Vice President for Industry Best Practices as well as Program Lead for Cloud Provisioning/Setup and Business Configuration of SAP´s Intelligent Enterprise Suite.
Prior to joining SAP, Matthias held various roles at Siemens as a software developer, project engineer, and product manager in process- and production automation.
Over the course of his career, he has not only gained insights into numerous industries across almost all continents but has also built a unique, global multi-thousand customer and partner network. This allows him to implement effective digital transformation processes focused on market best practices as well as disruptive business models and processes.
Thanks to his global business presence and his "Executive MBA for General Management"-studies at the Tongji University in Shanghai (in cooperation with the Mannheim University), he gained a special affinity for China and the Chinese market including a large network of friends, alumni, customers, partners and government.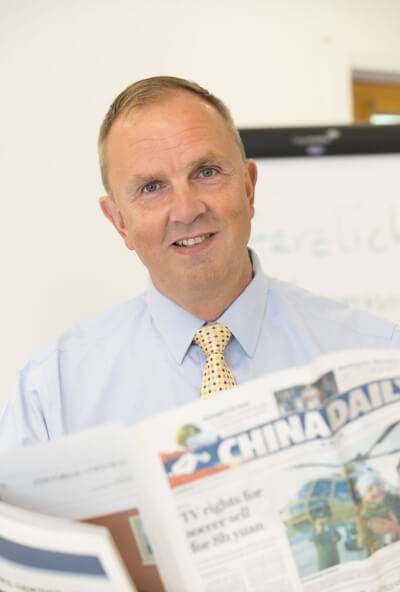 Alumni Founder Award 2020 by Mannheim Business School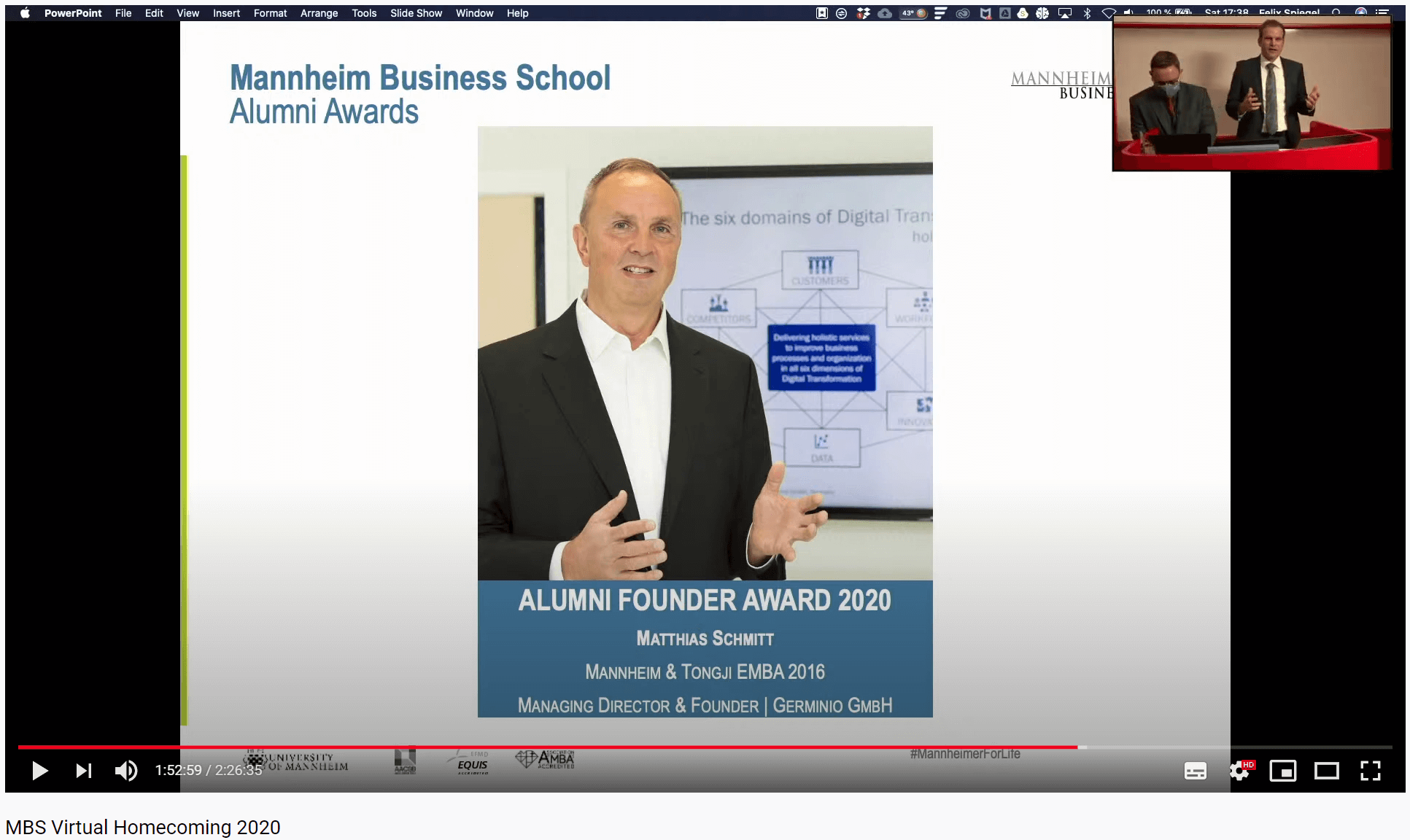 Matthias, who graduated an Executive MBA in 2016, was receiving the Alumni Founder Award 2020 of the Mannheim Business School (MBS) at the renowned University Mannheim!
During the virtual, annual Alumni Homecoming the laudation was hold by Kai Stenzel, the Chief Market Officer (CMO) at MBS, before he virtually handed over the Award together with Jens Aedtner, Director Alumni Relations and Career Development Office (ACO), to the overwhelmed and happy Matthias.
Matthias was very grateful by this honor from one of the top business schools worldwide and the #1 in Germany with its strong and widespread alumni network.
His thanks went to the MBS team and to SAP, his former company, which paved his career path and also enabled him to study for an EMBA at Mannheim Business School and the Tongji University in Shanghai. Finally, he expressed the thanks to his fellows in the lively alumni network who stay in touch for regular thought exchanges, collaboration and also loyally following Germinio on LinkedIn and other social media platforms. Thus, the alumni and the MBS are great supporters of building the Germinio brand.
Matthias is looking forward to welcome you.
Großsachsener Straße 17
69469 Weinheim
Germany