Legal Disclosure
Information according to §5 TMG (German telemedia act)
Germinio GmbH
Sandweg 14
69469 Weinheim
Commercial register: HRB 734467
Register court: Local Court Mannheim
Represented by:
Matthias A. Schmitt
Phone: +49 6201 2053
E-Mail: welcome@germinio. com
Sales tax ID
Sales tax identification number according to §27a Umsatzsteuergesetz
(German Value Added Tax Act): DE326514803
EU dispute resolution
The European Commission provides a platform for online dispute resolution (OS): https://ec.europa.eu/consumers/odr.
You will find our e-mail address at the top of the imprint.
Consumer dispute resolution/Universal arbitration board
We are not willing or obliged to participate in dispute resolution proceedings before a consumer arbitration board.
Liability for content
The content of our website was created with the greatest of care.  However, we cannot guarantee that this content is correct, complete or up to date. As a service provider we are not liable for the content of our website according to §27 Abs.1 TMG (German telemedia act) we are responsible for our own contents on these pages according to the general laws. According to §§8 to 10 TMG, we are not obliged to monitor transmitted or stored information from third parties or to investigate circumstances that indicate illegal activity.
Obligations to remove or block the use of information according to general law remain unaffected by this. However, liability in this respect is only possible from the time of knowledge of a concrete infringement. If we become aware of any such violations, we will remove the content immediately.
Liability for links
Our offer contains links to external websites of third parties, over whose content we have no influence. Therefore, we cannot assume any liability for these external contents. The respective provider or operator of the sites is always responsible for the content of the linked sites. The linked pages were checked for possible legal violations at the time of linking. Illegal contents were not recognizable at the time of linking.
A permanent control of the contents of the linked pages is not reasonable without concrete evidence of an infringement. If we become aware of any infringements, we will remove such links immediately.
Copyright
The content and works on these pages created by the site operators are subject to German copyright law. The reproduction, editing, distribution and any kind of use outside the limits of copyright law require the written consent of the respective author or creator. Downloads and copies of these pages are only permitted for private, non-commercial use.
Insofar as the contents on this page were not created by the operator, the copyrights of third parties are observed. In particular, third-party content is marked as such. Should you nevertheless become aware of a copyright infringement, please inform us accordingly. If we become aware of any infringements, we will remove such content immediately.
Translated and adapted from German source: https://www.e-recht24.de/impressum-generator.html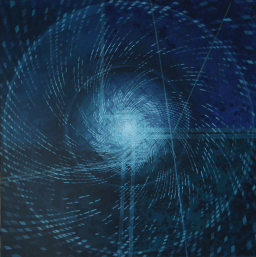 Graphics and Design
With regard to corporate identity, Germinio works closely with the freelance and graphics artist Werner Keller from Berlin. Movements in time and space are depicted with the painting "Cosmic II", which is perhaps reminiscent of the Big Bang or just an origin. This process, illustrated here, combines in its complexity and temporal dimension with our view onto digitalization and disruption and thus shapes the brand of Germinio.
Werner Keller, a German artist born in 1956 in Weinheim (Bergstraße), began his professional career as a graphics designer after studying visual communication in Mannheim. With the move to Barcelona, where he spends six years, the artistic activities became the real focus of his work. A variety of works are created in the areas of painting, drawing and sculpture. Now he is working freelance in Berlin since 1994.
Visit Werner Keller's Homepage